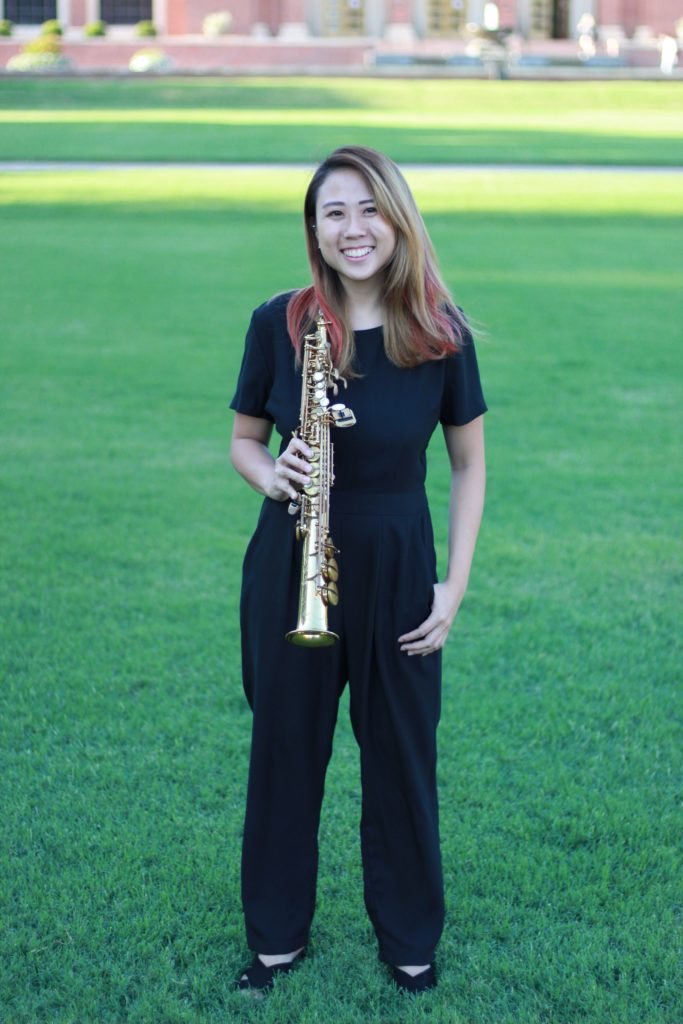 Alexis Seah
Saxophonist Alexis Seah Hee Cheng is an avid performer in Singapore and internationally. She graduated from Nanyang Academy of Fine Arts (NAFA) with a Diploma in Music (2014) and Bachelor of Music in collaboration with Royal College of Music (2016). She also received a Master in Music from Oklahoma State University (2019). Alexis studied under the tutelage of Leslie Wong and Dr. Jeffrey Loeffert, serving as the Graduate Teaching Assistant for Dr. Loeffert's saxophone studio.
As an active musician, Alexis has performed with numerous ensembles in Singapore and USA such as the NAFA Saxophone Quartet and Ensemble, NAFA Wind Ensemble, NAFA Orchestra, OSU Wind Ensemble, OSU Jazz Ensemble, Windstars Ensemble, West Winds, and The Philharmonic Orchestra. Alexis has also performed solos regularly at the Singapore Saxophone Symposium every year held in NAFA, and has appeared as a guest soloist with Orchestra Collective at the Esplanade Concert Hall (2014).
She is also the co-founder of Xin Saxophone Quartet. As a highly versatile chamber group, Xin Saxophone Quartet (XSQ) is one of Singapore's leading professional saxophone quartets. Founded in 2016, the name Xin Saxophone Quartet plays on the Chinese character for "heart" and also the first character in Singapore's Chinese name. It is the quartet's motto to represent Singapore by always performing with sincerity from the heart. An additional reason for the name is because the quartet members love performing new music, commissioning Singaporean composers to write music for them – Xin also means new in Chinese.
Alexis has attended numerous music festivals such as the Singapore Saxophone Symposium, Asia Pacific Saxophone Academy, World Saxophone Congress, North American Saxophone Alliance, among others.
Performers
Alexis Seah, saxophone
Korak Lertpibulchai, piano
Programme
François Rossé: Le frêne égaré
Alfred Desenclos: Prélude, Cadence et Finale