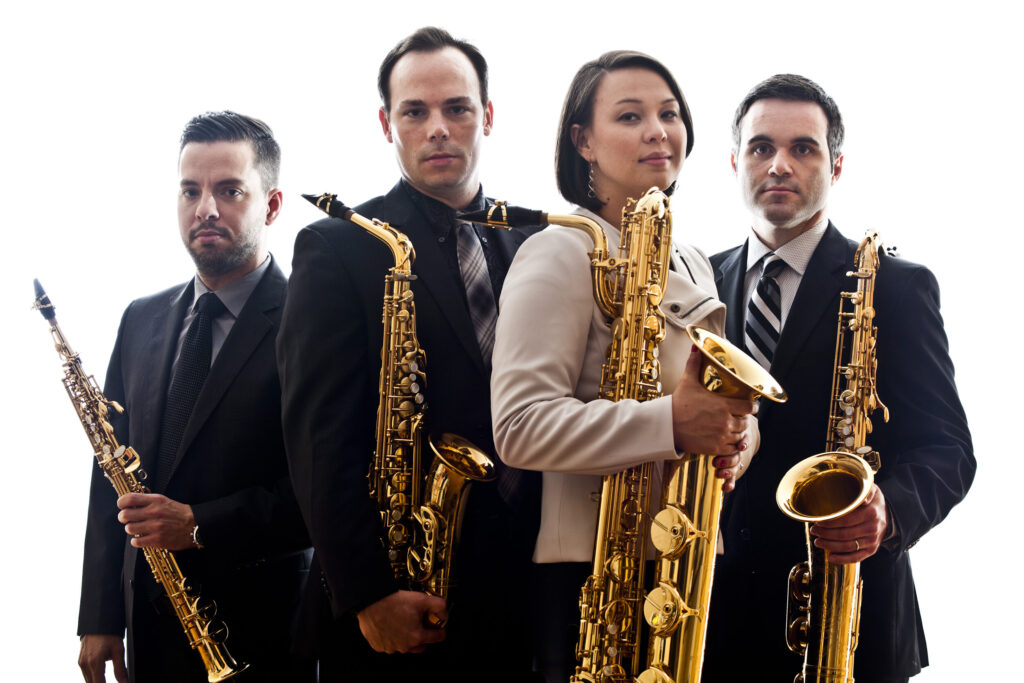 h2 quartet
The award-winning h2 quartet has been wowing audiences since 2002. h2 takes advantage of the great expressive capacity of their instrument by programming traditional, avant-garde, minimalist, and jazz-influenced works in surprising and compelling ways. h2 has performed throughout the United States, in Europe, the UK and in Asia.
The ensemble has released five critically-acclaimed recordings: Generations, Times & Spaces, Groove Machine, Hard Line, and Enrapture. Each of these albums introduces audiences to a different side of the saxophone, with the latter three comfortably bridging the gap between the popular and avant-garde sides of American music.
The h2 quartet has been featured on NPR and PBS programs, including the nationally-syndicated Backstage Pass. Along with demonstrating a mastery of traditional quartet repertoire, h2 is dedicated to the commissioning and performing of new works. The quartet has commissioned works by Drew Baker, Claudio Gabriele, Takuma Itoh, David MacDonald, Victor Marquez-Barrios, Roger Petersen, Forrest Pierce, David Rakowski, Jesse Ronneau, Bill Ryan, Matthew Schoendorff, Daniel Wohl, and has premiered works by John Mackey, Marc Mellits, Mari Takano, and Amy Williams.
The h2 quartet has won prizes at the Fischoff National Chamber Music Competition (First Prize, Gold Medals) and the North American Saxophone Alliance Saxophone Quartet Competition (first prize), among others. The group was also finalists in the Concert Artists Guild Competition, and earned Honorable Mentions at the Plowman Chamber Music Competition, the Chesapeake Bay Chamber Music Competition, and the Coleman Chamber Music Competition. h2 is also the recipient of several Aaron Copland Fund Grants.
The h2 quartet is a Vandoren and Yamaha Artist Ensemble.
Performers
Geoffrey Deibel
Jeffrey Loeffert
Kimberly Goddard Loeffert
Jonathan Nichol