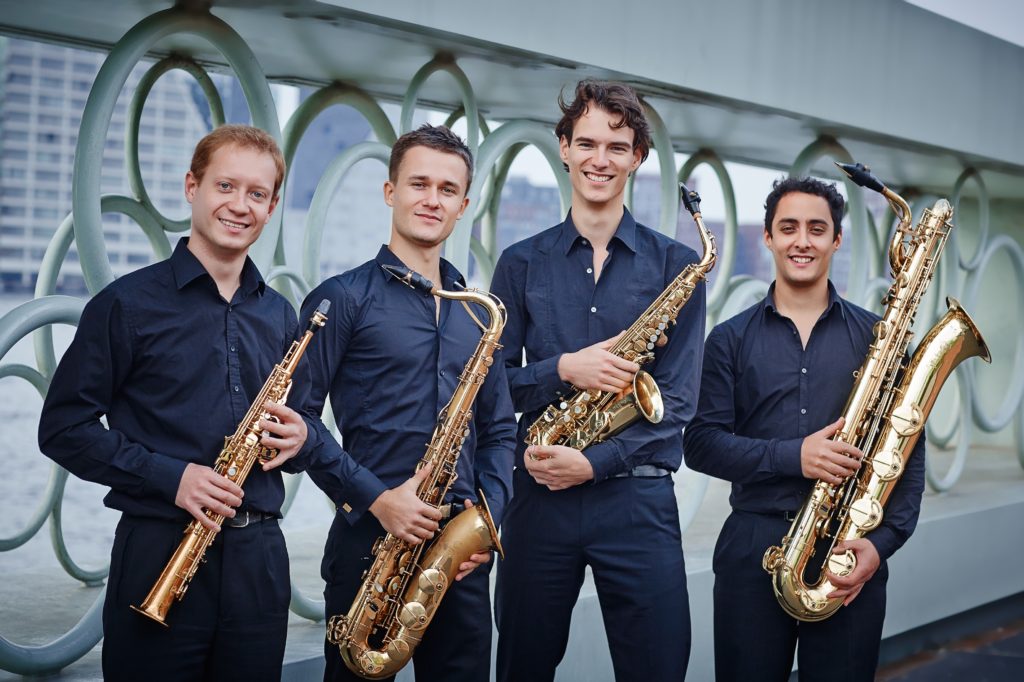 Photo by Daniel Stokowiec
Keuris Quartet
The Keuris Quartet (KQ) is an international saxophone quartet, specializing in the interpretation of classical contemporary music. After winning First Prize at the inaugural Strasbourg International Saxophone Quartet Competition in 2015, the Keuris Quartet gained international recognition and is considered as one of the brightest saxophone quartets performing today.
As graduates of the Conservatory of Amsterdam and former students of legendary saxophone teacher Arno Bornkamp, these four young saxophonists, from different parts of the world, were united by their passion for performing contemporary music. Founded in 2013, the Quartet was named after Dutch composer Tristan Keuris (1946-1996), whose oeuvre includes two highlights of the contemporary saxophone quartet repertoire.
The main aim of the quartet is to bring contemporary music to a broader audience by placing their programme into a context that makes the music and its emotions easy to perceive. Great examples of such a context are their projects "War & Peace" (Grachtenfestival 2015, Amsterdam), and "Sound of Running" (Festival Classique, The Hague 2014, in collaboration with Fake-duo and Dagmar Slagmolen). In May 2017, the Keuris Quartet won the Second Prize at the prestigious M-Prize International Chamber Arts Competition in Ann-Arbor, MI (USA). Since 2016, the Keuris Quartet has been regularly performing and giving workshops at the Gaudeamus Music Week (Utrecht, NL) as well as the Singapore Saxophone Symposium. The Quartet is in a close partnership with the Mahidol University School of Music in Salaya (Thailand), where they give master-classes to young saxophonists.
Performers
Soprano saxophone: Evgeny Novikov
Alto saxophone: Stefan de Wijs
Tenor saxophone: Michal Grycko
Baritone saxophone: Juan Manuel Dominguez