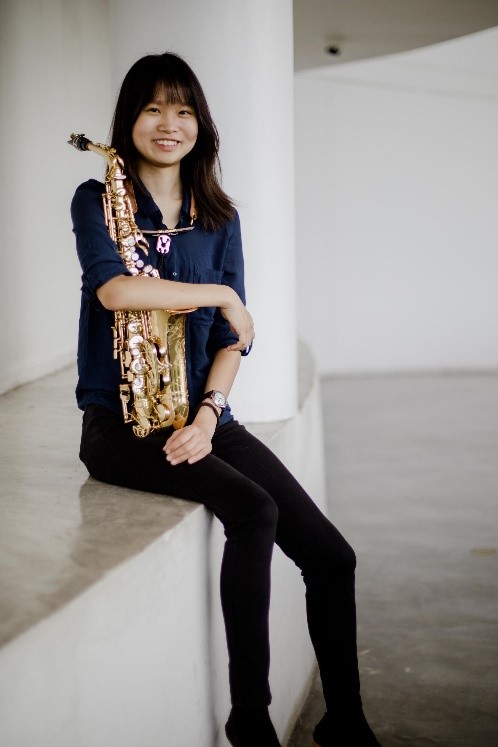 Tan Yun Qu
Tan Yun Qu is a Singaporean saxophonist and a graduate of the Nanyang Academy of Fine Arts (NAFA) / Royal College of Music (RCM) Bachelor of Music (Honours) Programme.

As a soloist, Yun Qu has clinched awards at numerous competitions locally and internationally such as the King's Peak International Competition 2020 (1st Prize), Sugree Charoensook International Music Competition 2021 (1st Prize) and the NAFA Concerto Competition 2022 (Grand Prize Winner). She has also performed with Protégé Saxophone Ensemble and New Meta Quartet at concerts held in Singapore, China and Malaysia. Since 2019, Yun Qu has been an administrative assistant at the Asia Pacific Saxophone Academy in Bangkok where she is part of the international camp's organising committee.

Having a strong interest in promoting new music, Yun Qu has also premiered works by local composers such as Gu Wei and Dorcas Koshy. She is also currently co-leading a Global Saxophone Consortium with New Meta Quartet, for a work by one of Singapore's most accoladed composers, Dr. Zechariah Goh.

As a music educator, Yun Qu is currently employed as a saxophone teacher by Flute and Music Academy (FAMA) and Singapore's Ministry of Education (MOE) Schools where she teaches students in private and group band settings respectively.

In recognition of her high standard of music and holistic achievements in NAFA, Yun Qu was the recipient of the 2019/2020 Tan Chay Bing Scholarship award and the 2020/2021 and 2021/2022 OCBC Local Undergraduate Scholarship.

Moving onwards, Yun Qu will be pursuing a Master of Music at the Northwestern Bienen School of Music in Chicago while serving as a graduate assistant. In tandem with further honing her skills as a saxophonist, she will also be developing her ethnomusicology research and is currently working on a proposal submission for the 47th International Council for Traditional Music (ICTM) World Conference.